Ok, here we go. I finished it.
Here's the basic skin
I've added in 'Sui Dream' clicking on it will change Suiseiseki's image.
*click*
>>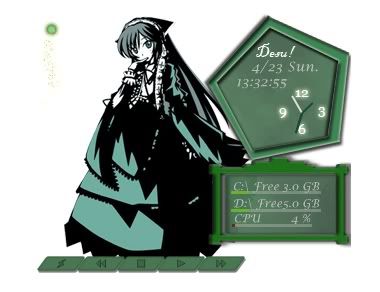 >>
and a few more others.
Clicking on the hardrive window will switch between:
>>Drives C:, D:, Cpu, to drives E:,F:, Ram.
Also this is what it looks like with winamp running.
>>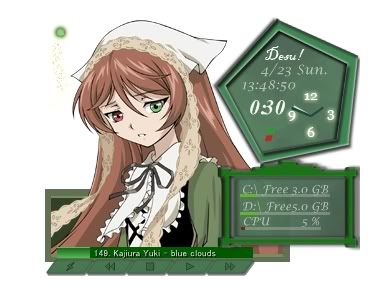 Get here: >
http://rapidshare.de/files/18708652/SuiSkin.rar.html
Please try it out and tell me what you think. And if there are any errors please tell me. should I change the windows? they're not exactly top notch...
solwyvern wrote:
INSTRUCTIONS:
To make this work,
-Unzip the rar file.
-Copy the 'Saber_Theme' folder into your '>>\Rainmeter\Skins\' folder.
-Run and refresh your Rainmeter.
-right click on the rainmeter, go >configs and run the '
Suiseiseki_Theme.ini
'
For the winamp to work, your winamp should be located at C:\Program Files\ Winamp\.
note
'added bonus.
'
You'll notice there is a .ini file called '
Rainmeter.ini
' included.
Overwrite this file with the current 'Rainmeter.ini' in your Rainmeter folder.
Now, when you click on the Rainmeter icon in the sys. tray on the bottom left corner, The skin will open close by single click.
:D
**btw, I suggest that you not look into the code. I am very sure there are a lot of unnecessary codes in that .ini file. It's very messy. >_<
My next one will be..... Chiyuri-chan!!!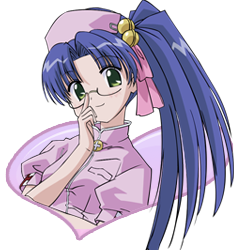 ♥
_
♥♥♥♥♥♥♥♥♥♥♥♥
*faints*